Abercrombie and Fitch Try On 2022 – Criss Cross Jeans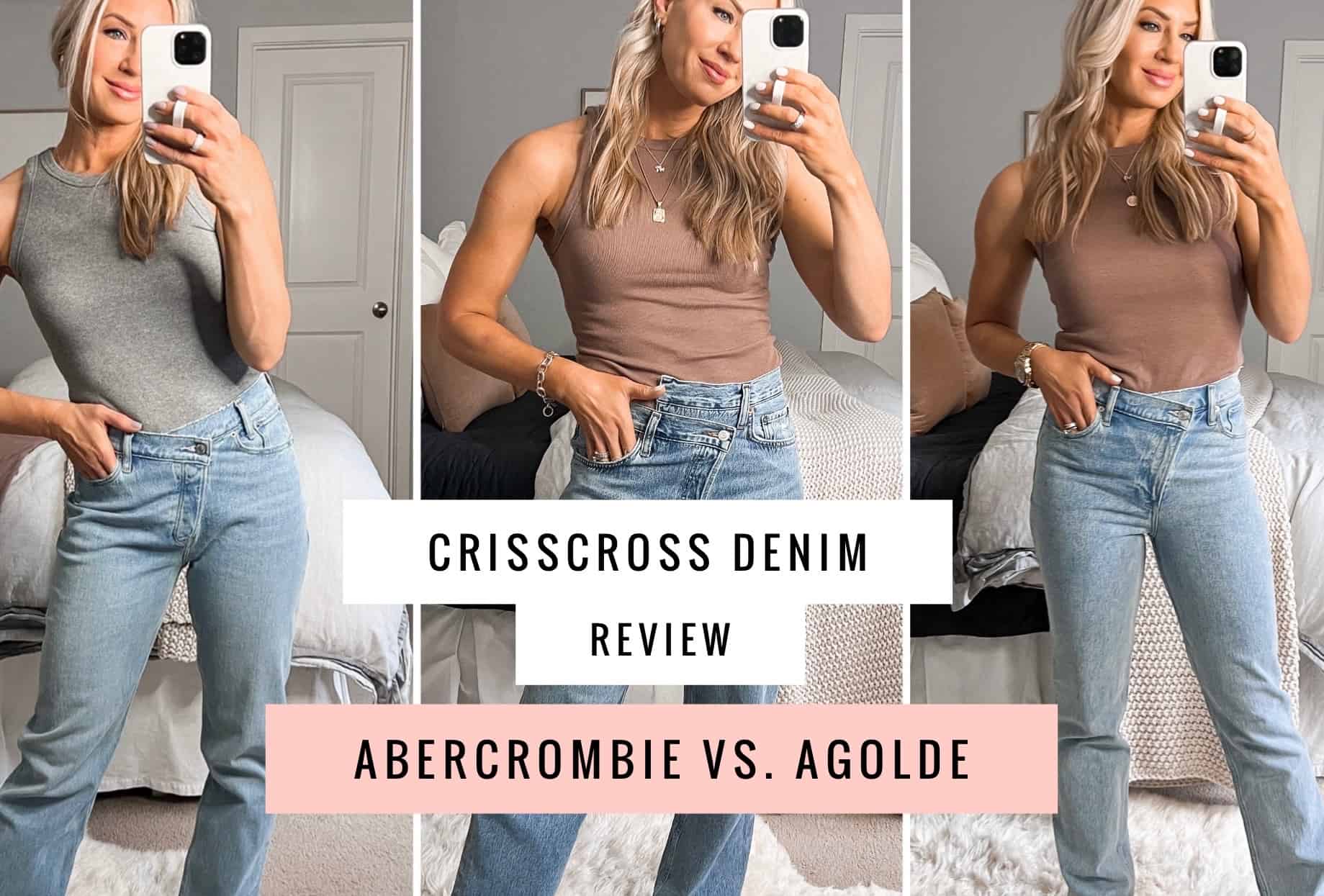 Abercrombie and Fitch Try On 2022 – Criss Cross Jeans – Jeans Try On 2022
Criss cross jeans try on, this is a very specific topic but I really do think we will see this design for a while. It's very flattering on the waist and almost gives a cinched look. I have seen a lot of women share the Abercrombie criss cross pair for under $100 but also this specific Agolde pair (the second pair of both brands). 
Here they are in order and more of my thoughts on each pair.
Abercrombie Dad Jean: https://rstyle.me/cz-n/f6fme8ckbap
I personally like the color of these the best but needed to size down one. The leg was just too wide for my liking. 
Abercrombie High Rise Jean: https://rstyle.me/cz-n/f6fmjnckbap
These come in a black wash, medium and light color. The ones I show are the light. I like the fit of these best but the light is too acid wash for me so I would need to try the medium color. Super cute and flattering and I got my true size. They are on sale right now for $75!!! 
Agolde Eternal Jean:https://rstyle.me/cz-n/f6fmvzckbap
This pair has a one star review on Nordstrom lol but they aren't that bad. I would say the leg is a bit wider than the other Agolde I show you and the color isn't quite my favorite. They would look awesome with sneakers and are totally on trend. Size down for sure! 
Agolde Suburbia Jean: https://rstyle.me/cz-n/f6fmueckbap
This is the pair I kept (even though I think I might order the medium wash of my favorite Abercrombie pair to try). Size down one and they are super cute with any shoe. I see amazing reviews on these and I know why, the booty and leg is flattering and the perfect length for me @5'7. 
If you're jumping on this trend you have to tag me on IG and comment to let me know!! Don't forget that the LTK is such a simple way to shop and completely FREE!! Tell your friends and follow me here to shop this entire video: https://www.shopltk.com/explore/stacyrody
Hugs-
Stacy 
Connect with me:
LIKEtoKNOW.it: https://www.liketoknow.it/stacyrody
Facebook:  https://www.facebook.com/stacy.rody
Instagram:  https://www.instagram.com/stacyrody/    @stacyrody