NEW Annual All Access Pass – Don't Miss Out!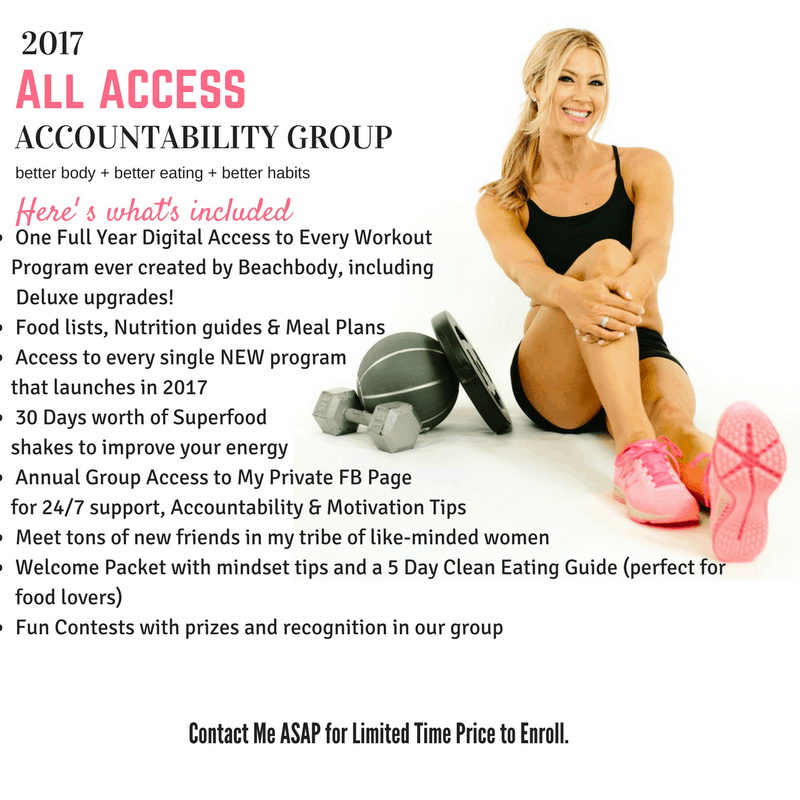 All Access Pass
Hey Fit Friends!
It's 6 weeks into 2017 and I'm curious…how are YOU doing with your goals?  Do you feel like you may need a fresh start in February? Me, too!!!  Our family was sick for most of January.  But sick or not, if you are anything like the "old" me, this is about the time I would start to fall off the wagon.  I would begin falling back into my late night snacking habits or forget my vision of what I was really setting out to do.  Here's what's so GREAT about this year, we don't have to go back to our old ways.  There's a new way of thinking and it is not the "quick fix" mentality.  It's a long-term mindset.
Let me explain more….
You know how I emailed last month about the NEW Annual All Access Pack?  It's basically Beachbody's "Netflix" of Fitness deal and it's been a game changer for so many on our team. I am seeing results of 8 lbs LOST for a busy working mom of 3, 16 lbs and 22 inches off for one focused woman – all in ONE month.  Yep, changes are happening all over the place and if you have not jumped on this wagon, the time is NOW.  So this Netflix deal is the Beachbody On Demand Exclusive ALL ACCESS Pass. For only $199, you get access to over $6000 worth of programs, nutrition guides, and extra deluxe workouts.  In addition, you get access to the 3 NEW programs that Beachbody is coming out with this year!!!  I don't know what they are yet, but I know they will be GOOD!!  This price is ONLY good through the end of February.  My guess is that it will go up SIGNIFICANTLY in price in March if they keep it going, which it should because it's an amazing deal!
[arve url="https://www.youtube.com/embed/HAE_qCDq5dY" align="center" title="All Access Pass – Find out what this Fitness Mom is doing from home!"/]
Here is the link to take advantage the All Access Pass.  CLICK ME!!! 
Need a quick recap of the All Access Pass?  Here is the scoop:
* Let me break it down for you….so for a FULL YEAR you get unlimited access to hundreds of workout programs — like P90X3, Insanity, 21 Day Fix, Core de Force, Body Beast — you name it!! Every single workout that Beachbody has ever made plus any new programs that come out this year! I would have KILLED for this when I signed up. You would have immediate access to LITERALLY EVERY SINGLE WORKOUT that I have used to lose weight, tone up, and stay in shape over the past 4 years!  

ALL of our workouts stream LIVE from your computer, phone, tablet or smart t.v.  Not only that, but you can count on being a part of my online fitness groups for the next year so you get the support and accountability to keep you committed!  Did you know that 70% of people without a coach end up quitting?  That is not what I want for you.
SAY what?????  It's cheaper than most gym memberships and you get to workout at home….no fighting for equipment, driving to the gym, waiting for classes. Just push play and you're done!
Here's what you get with the All Access Pass:
-A FULL YEAR'S ACCESS to all Beachbody programs ever created and to come out in 2017
-One month supply of the famous nutrient dense Shakeology (we all know you can't out train a bad diet, get one meal a day you don't have to plan)
-7 piece Portion Fix Color Coded Containers and Shakeology shaker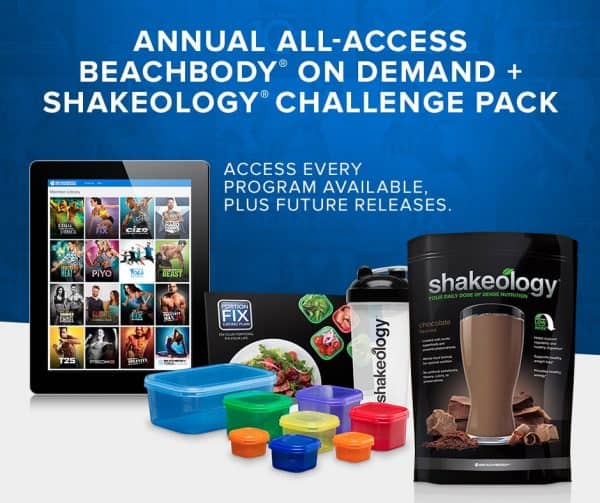 All of the above (yes, you get ALL 3 items) for only $199 through the end of this month only!
I would so love to help you get to your goals! That's my PASSION! I am here as your coach to HELP you, guide you every step and encourage you!   I would love to add YOU to my monthly online challenge groups to give you the support and daily accountability that most of us so desperately need!