Cheap Gym? Why Not Use Your Own Home?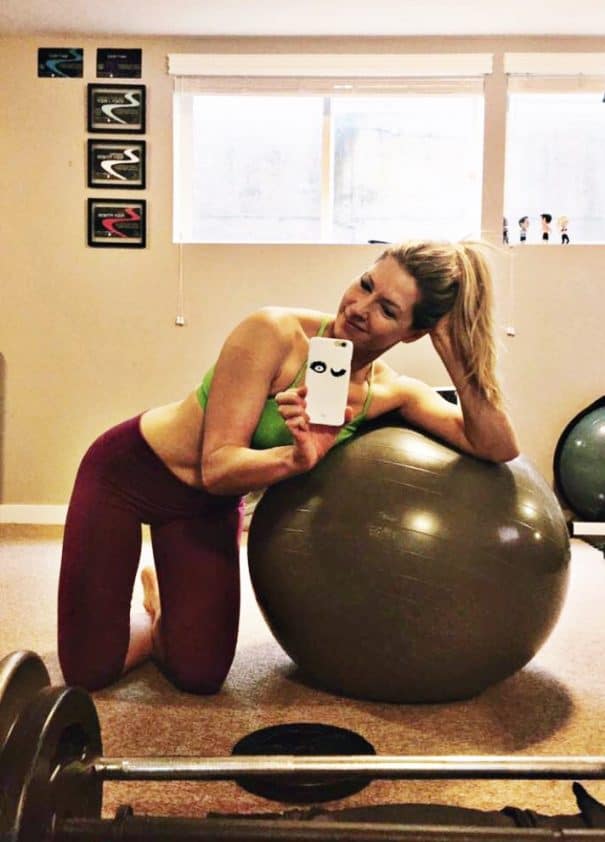 My Cheap Gym
I used to love going to the gym.  I would get in my car, drive 15 minutes, take 5 minutes to park, rush and change my clothes in a shared space, be barely on time for class, then workout in a class for about 45 minutes to an hour.  Then I'd usually do some stretching.  I would then go back to my car, jet out and get back home in 15-20 minutes.
I figured I spent at least 30 – 45 minutes in my car a day, just in traveling to and from the gym; had to always pack a bag, which took extra time and had to spend an extra 15 minutes at the gym to get ready and what not almost everyday.  You better believe I loved working out at the gym before kids, but it ate up an extra hour per day….usually 5 to 6 days per week.
Having kids….well, let's just say that an extra hour a day is huge!!!!  Let's not forget that time, gas and a gym membership cost money!!!  I needed a cheap gym alternative.  I needed a way to be as efficient as possible!!
Why the Cheap Gym?
When my husband began doing P90X in 2012, I really was skeptical that it would work.  Well, he proved me wrong….all while I was getting bigger and bigger, pregnant with my second.  Thanks hubby!!  I watched as he stayed consistent, getting into Insanity after P90X, and losing 70lbs in six months…..all from a room in our basement.  He bought some adjustable dumbbells, a pull up rack, some mats and an old barbell with some weights.  My hubby also added a bench.  Over the years we have added a bit more, using Craigslist or Offer Up to pick up a few more items, but really that was what we needed.  Oh ya….and a TV from 2004 and a DVD player from the same year.  Our cheap gym was complete!!!
Turbofire was my workout of choice in my small, cozy, cheap gym.  It was perfect.  The space is about 12'X12′, that is including all the equipment.  We have a good amount of natural light, which I love and I can open the window.  Being in the basement, it stays cool in the summers in the Seattle area.  I don't have to waste any time at all.
I would take a preworkout drink called Energize, throw a show on for my kids and away I would go!!  As the kids have gotten older, I will get my workout done early, get them ready and then get them to school.  I then get about 5 straight hours to work on my business, get things done around the house, grocery shop, volunteer…you name it, but I'm not taking the time to go to the gym.  Most my workouts are 45 minutes on average, many are shorter and then I am done!  No more commute and prep.  It is super efficient for the busy woman or mom!!
I never see myself going back to a gym fully.  I love my cheap gym.  A couple of times a week would be fun, especially if I was leading classes, but for the most part, it just wastes too much time.  Time is my most important and precious commodity and a gym is just not in the cards.
My Cheap Gym Just Got Better!
Now, fast forward to the present, my cheap gym is even better!  We get all our workouts, literally hundreds of them streaming, anytime we desire!  I will do the entire workout of 21 Day Fix, Hammer and Chisel, Core De Force, but I really love switching them up from time to time, I also love hybrids.  With Beachbody on Demand, I can access any of the workouts anytime.  Having access to every single workout that Beachbody has ever made!  It's my dream come true!  No more having to search through DVD's stacked to the ceiling!!
Here's what our cheap gym looks like, in this quick video I made!
[arve url="https://www.youtube.com/watch?v=p_xSLKm01co" title="Cheap Gym, At Home Gym, Workout from Home" description="A video about Stacy Rody's cheap gym in her home." upload_date="2/5/2017″/]
Want to more?  Well, good thing I'm here!  I would love to talk with you, listen to your needs, know what your goals are and how you want more time, our most valuable commodity at the same time as staying fit.  It doesn't have to be expensive!  Please fill out the questionnaire below, which helps me understand you more and we can do this together!!  I love helping women change their lives, showing them some of the steps I've taken!  Thanks for stopping bye, I look forward to chatting soon and helping you create your own cheap gym!