Fight Your Way To Fitness! Core De Force Is Where It's At!!!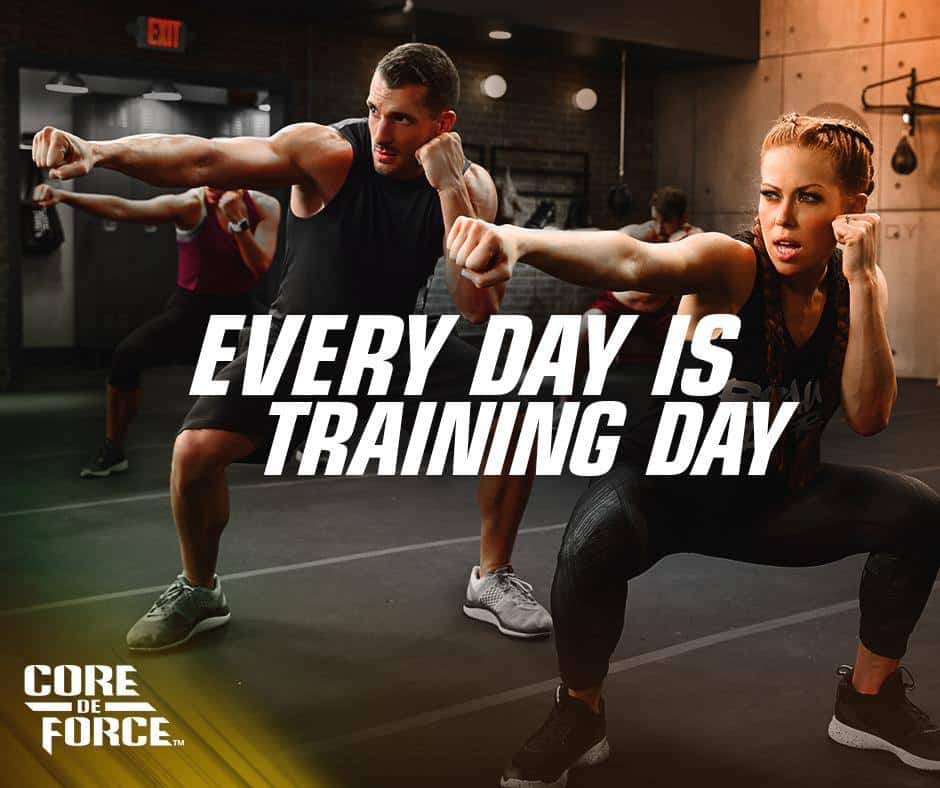 Core De Force!!!
I am pumped UP to announce that Beachbody has a brand new home fitness program that launched this week!!!  Joel & Jericho (who you may know from Les Mills Combat and PUMP) created this total body transformation program that will rock your world.  You need zero equipment and every move is firing your core!!  I love that all you need is your own bodyweight to get a killer workout! It also includes the Beachbody On Demand, which gives you the option to stream from any device.  If you travel for work, you can get it done from your hotel room. Core De Force is an MMA inspired program which includes 3 minute "rounds" where you will get boxing, kickboxing and Muay Thai, knee-elbow combinations, body weight training and cardio spikes that will help you lose belly fat and SHRED your body.  I love that it's broken up like this so you can go hard for 3 minutes at a time, and before you know it the workout is over!!  You will SWEAT, you will be SORE and you will get RESULTS!  Check out all the details here if you are ready to change up your workout, break a plateau, get started with your transformation or hold yourself accountable over the Holidays.  We are going to be hosting a private Test Group for people who are ready to join me in this 30 day program!
[arve url=]
Who is Core De Force For?
Core De Force is for EVERYONE.  Whether you are a beginner, intermediate or advanced level in your fitness, you can do this workout.  The workouts are only 30-45 minutes, so it's the perfect amount of time!!!  This program has a modifier so you can go at your own pace.  You will enjoy the challenge of taking the intensity higher to improve your cardio strength, speed and endurance.  Each MMA inspired workout has an optional move breakdown to help you get familiar with the combinations.  Core De Force also focuses on rotational moves which means you will work your core from 360 degrees every time you hit play. That is going to be awesome for all of us who really want to tone that trouble area (hello mommy belly).

How Can I Get Involved In My Support & Accountability Group?
So now, here is the MOST important part.  How do you REALLY succeed at this program??  Well, anyone can go out there and buy the Core De Force Challenge Pack and do the workouts.  Unfortunately I have seen many times where someone will purchase a program with the best of intentions and before they know it, the workout is sitting on their shelf collecting dust and making excuses for why they have no time or it isn't the right timing.  So don't let this be another program that you have good intentions with!  It's time to take charge of your fitness and nutrition and get involved in a group of empowered people ready for a change just like you are!!!!  The private online community of support that is going to help you start and complete the program and get the RESULTS that you want, just might be the BEST part!  Better yet, we are going to help you create a Holiday plan that is going to give you the flexibility to enjoy the holiday things you want to eat but still get results. Yes, you can enjoy a healthy lifestyle!!!!

Do you want to join???  Here are the requirements and how to get started:
In my Test Group I am going to be requiring that everyone participate for the entire 30 days of the program, starting on November 14th!  Each participant must have ME as their assigned coach.  You cannot already be working with another coach or be a coach yourself.You must commit to both the fitness program and Shakeology to join the group.  You will be getting everything you need for this group when you sign up with me.You must be willing to participate daily in the closed online group.  I will have you log your workouts in our amazing Challenge Tracker App right on your phone and also in the Private Facebook group (choose where you like to log best). You'll be logging your daily food and fitness activity and others will be too!!!  It will provide you with tools, tips and recipes to help you get to your goals.You must be willing to give it your all!  Change is not always easy, but it is totally worth it.
How Much Does It Cost?
Core De Force has a variety of options.  The one that I recommend the most is the Core De Force Challenge Pack  because it comes with everything you need to be successful with this program.  It comes with the entire Core De Force workout program, nutrition guide, program manual, Shakeology, access to ME as your coach, discounted price and shipping, plus it gets you into my Test Group where I will be giving you a 5 Day Meal Guide to help you get started right; giving you recipes, tips, and daily accountability so that this program does not become another dust collector on your shelf.
The >>Challenge Pack<< is $140 on Sale starting October 31st through November 2016.
There will never ever be a perfect time to start your fitness and health transformation.  You literally just have to take that leap of faith, bite the bullet and go for it.  If you do not try, how will you ever know if you can succeed? This just might be that ONE thing where everything comes together and just finally makes sense to you and your lifestyle.  That's what's happened for me and why I'm so passionate about sharing it.  Will YOU take the leap?  I sure hope so!!!!     *APPLY HERE*