Week Three Liift 4 Review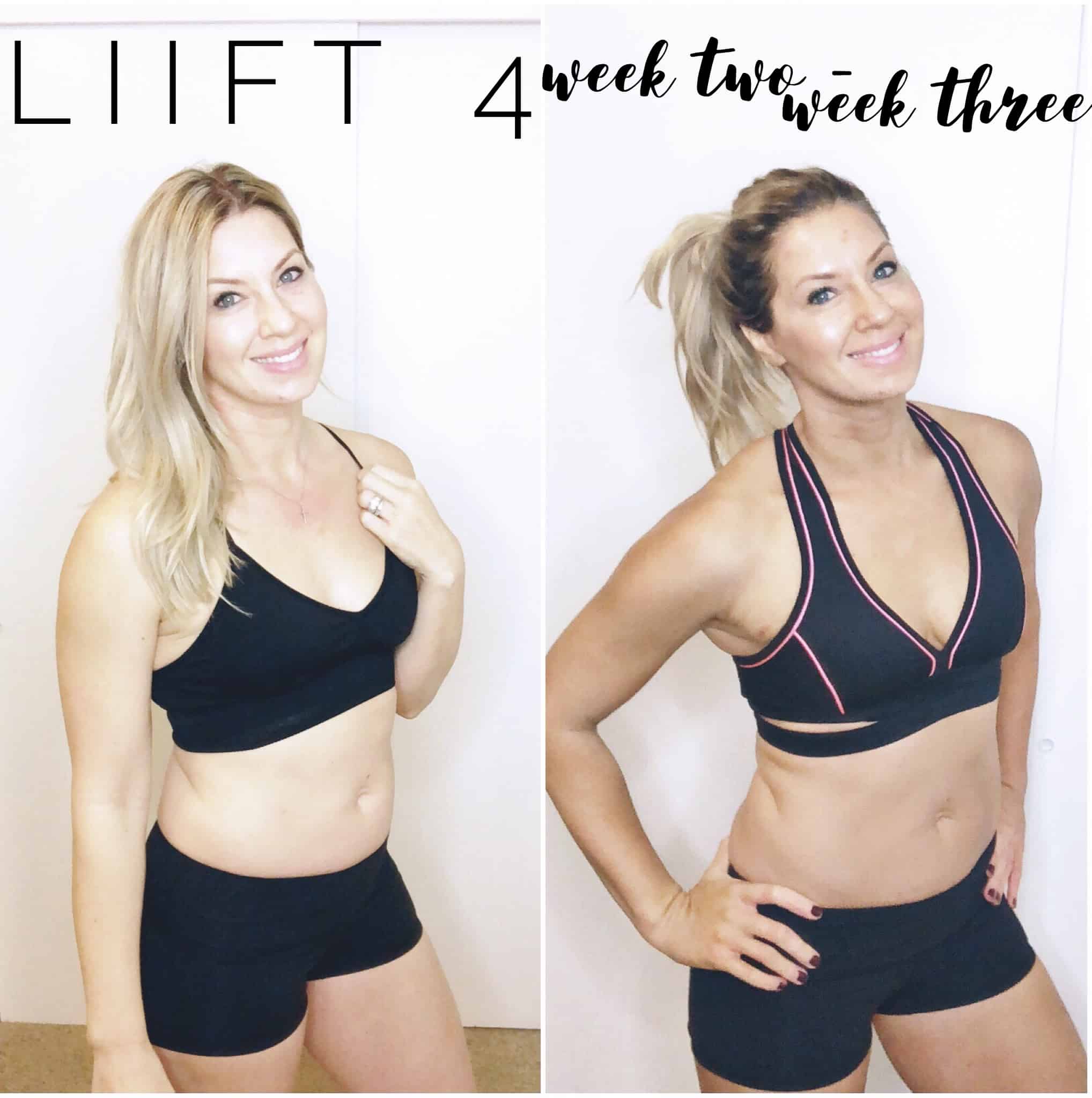 Week Three Liift 4 Review – A Mom's Weight Loss Transformation!
I just drank my Energize so I am ready to go on shoulders week three, day three, and the girls and I are chatting in the online accountability group. How amazing we feel and how we can't believe it's already week three.
No workout is the same for the entire eight weeks that keeps us engaged and interested and one little tip I have for you that helps me a ton are mirrors. I went to Ikea and picked up three mirrors I use at to check my form.
I think about the muscles I'm using and I know that that really helps with my results, I'm not just guessing how my form is. I actually know where my knee is bending up over my ankle to my elbows are in windows, close to my body. This applies to my bicep curls as well.
When you're lifting heavy, and if you need to go heavier, you should invest in the heavier weights as needed. You will find yourself needing heavier as this program goes. But as I'm lifting heavy and pushing myself, I must focus on proper form because I don't want to get injured. And if I'm going to take time to do this, I want the best results.
The meal plan on this program is really, really simple and it's laid out a lot like some of the other programs that I've done. And, there's an app where you can track all the containers. And really what it is, is it's eating right for either your weight loss goals or your muscle building goals. So that being said, a lot of the times when we calculate, we can find, okay, I'm eating too many healthy fats and proteins. What I need, is more healthy carbs and veggies and there are different ways that I can help you figure out how to get those in your day. And, the app lets you track everything.
Today I have 10 baby carrots as a veggie and then I've got some Turkey lunch meat. It doesn't have to be fancy. You can measure it and throw it in a bag and go. And then for dinner tonight, I used my Instant Pot, I did spaghetti squash and a harvest fall pasta sauce, and then I just did onion and lean ground turkey meat. (For full recipe click here.)
So of course I get my daily shake everyday. That's a dessert that helps with my cravings. And you also get a cheat meal and he wants you to have it. Now this is really, really smart. He wants you to either have it on Wednesday night because Wednesday's the rest day, he knows you're going to have a workout on Thursday, so you can use the energy from the cheat meal or the treat meal like I like to say for energy the next day.
So again, Saturday, Sunday are off on this plan. You can either do an active rest day, you can do a different program since you have access to over a thousand workouts, you can do a different workout. I've been choosing some booty day workouts because I need a little extra help, or just plain cardio or something fun that I like or Pilates or yoga. But since you have Saturday, Sunday off, you can do your cheat meal on Sunday night too, because you know you're going to be pushing it hard on Monday.
Remember, you're going to use those calories, that energy from those cheat foods and you're going to be able to have fun. And the average American, 80 percent do not stick to a plan. Six days a week is not doable for a lot of people that either commute, work full time, have super busy schedules, so being four days a week I feel like is the perfect workout for a busy lifestyle.
I'm happy to report that I am down three pounds since I started this challenge. Ditching the alcohol and focusing more on sleep and water has really helped me. I'm excited to see what's to come and my superfood shake has been helping with my cravings. So if you want to get in on the my next challenge, don't forget to message me and I'll get you in.
Connect with me:
Facebook: https://www.facebook.com/stacy.rody
Instagram: https://www.instagram.com/stacyrody/ @stacyrody
Email: [email protected]
Website: www.stacyrody.com