Week Four Review Of 80 Day Obsession – A Mom's Journey of Weight Loss Transformation!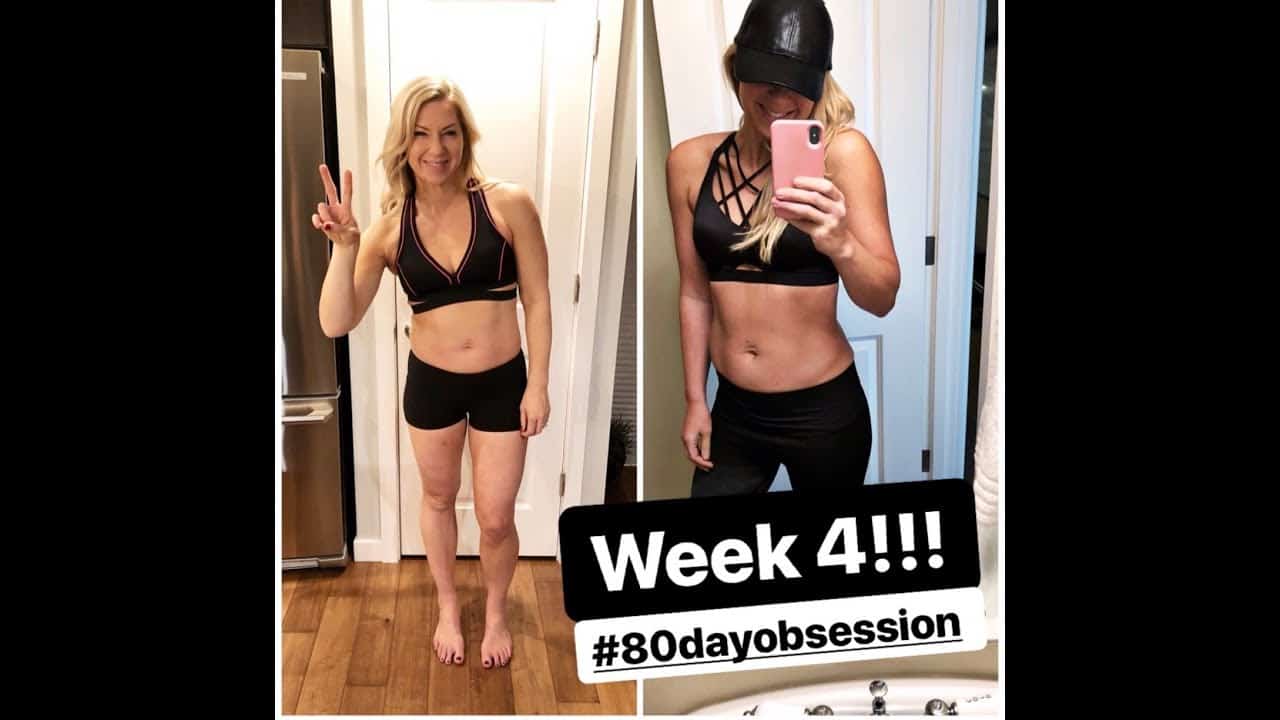 Week Four Review Of 80 Day Obsession – A Mom's Journey of Weight Loss Transformation!
This week with a little more tricky for me because we packed up and left for a two-night snowy mountain vacation with the family.
Of course, I prepped veggies, fruits and meats that we would have fast access to them during the day. I'm learning how to quickly pick my meals. This helps with the problem most of us face when we're shooting for a goal. If you get too hungry, you start to crave all the wrong things and that can lead to a bad decision!
The workouts are a little tricky because I only packed two 15 pound weights and I needed more variety than that. I just used no weights and focused on resistance.
I still have been struggling with that perfect nutrition. But, I have been perfect with my workouts, so I have to accept my success and know that every day I'm improving. Hashtag : peanut butter!!
I found Glazed Lemon Loaf Tea from Tazo. It has so much flavor and I love that it's a free food on the plan. All the girls in the group are getting it to enjoy at night.  I provided a link if you are interested!
I've been able to up my weights and I feel like anyone can do this program because of the modifier in each workout.
It always help to have a base when starting any fitness program.  So if you have been doing some type of working out, that's awesome.  If you haven't no worries.  There is a modifier for every move!  If you have any weight to lose, this will guaranteed do the trick for you.
My favorite part obviously, because I love food, is that you're eating a lot throughout the day and you know without a shadow of a doubt that you're nourishing your body the way it needs.
I think that as busy women we need that assurance that were taking care of ourselves as were learning to take care of our kids.
I know Phase Two will be will bring its own challenges but I'm really looking forward to the new workouts. I will keep sharing my progress videos and pictures, I promise! Feel free to join one of my monthly groups.  We have them regularly and you would have access to the workouts within 24 hours. Your package would arrive within 3-5 business days! Don't hesitate, let's get you feeling better SOON!!!
Connect with me:
Facebook: https://www.facebook.com/stacy.rody
Instagram: https://www.instagram.com/stacyrody/ @stacyrody
Email: [email protected]
Website: www.stacyrody.com