Week Two Review of 80 Day Obsession – A Mom's Journey of Weight Loss Transformation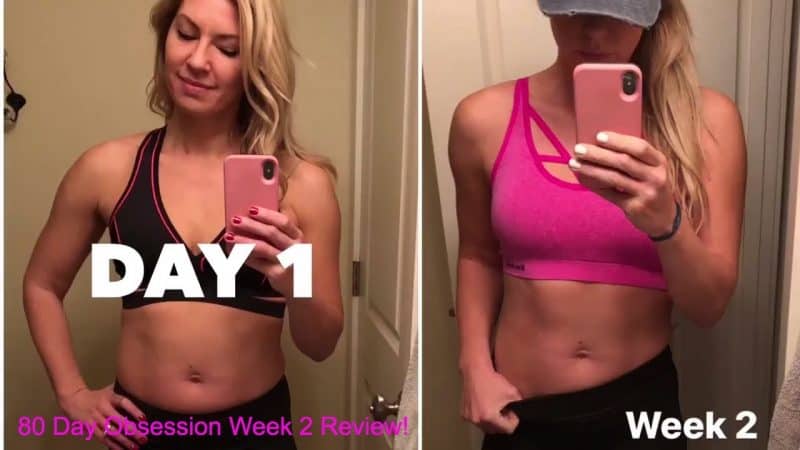 Week Two Review of 80 Day Obsession – A Mom's Journey of Weight Loss Transformation
Week 2 is in the books for 80 Day Obsession! I have to say it was a bit more of a struggle than I anticipated. I felt emotional, tired and not quite as driven as I had been in week 1. That is bound to happen though. This is real life and it's a real health journey that has it's ups and downs. I know the most important part is showing up and giving it my best.
The food is great, I don't think I'll ever run out of ideas or options thanks to the cooking show, our accountability group and the endless recipes available to me with the On Demand membership. Although I did sneak some chocolate and kombucha, I decided those don't serve my goal and so they aren't allowed to follow me into week 3. Notice how I said decide? That's what does it for me. I have to set my mind to it and then follow through with everything I have in me. My transformation is just too important to me to let sneaky snacks sabotage my progress.
I can see more rounded muscles in my glutes and even though I was sore, it felt good. This is not for a beginner but if you have a fitness baseline at all, I highly recommend it. She plays with the rep number and sequence so there is never a repetitive feel even though you are doing the same moves. Some friends and I were talking about how much we love it and decided it truly feels like you're seeing a trainer who designed the program just for you. Incredible experience thus far and I can't wait to fill you in on week 3 of 80 Day Obsession.
Connect with me:
Facebook: https://www.facebook.com/stacy.rody
Instagram: https://www.instagram.com/stacyrody/ @stacyrody
Email: [email protected]
Website: www.stacyrody.com