WHAT IS BEACHBODY ON DEMAND?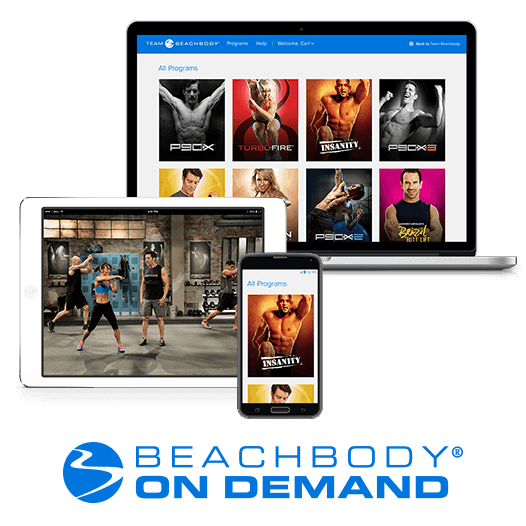 What is Beachbody On Demand?
Don't like DVDs? Me either! Which is why I LOVE Beachbody on Demand so much! BOD is a new feature from Team Beachbody where you can stream Beachbody's many proven fitness programs. Premium team members can work out anywhere, anytime when they stream the Beachbody workouts. Ultimately it offers you unlimited access and a one-stop shop to hundreds of awesome workouts.
How Does a Premium Club Member Get to Beachbody On Demand?
You can access On Demand through a web browser or through the Beachbody On Demand app/channel on supported devices. To access on a web browser, simply log into club.teambeachbody.com and sign in, or sign up.
How Much Does It Cost?
$39.95 for 90 days access (weekly breakdown of just $2.99)
30-day free trial!
What is Included?
Dozens of Beachbody workouts
10% discount on future purchases in the Team Beachbody store
Meal plans customized for your unique lifestyle and goals
VIP access to celebrity trainers and experts, including live chats
Your own personal coach for one-on-one guidance and support
Message boards and chat rooms for answers to all your questions 
What Programs Are Included?
Member Library The fitness programs available to stream under the Member Library section currently include: P90X, P90X2, P90X3, Insanity, TurboFire, Brazil Butt Lift, Ten Minute Trainer, ChaLEAN Extreme, INSANITY: The Asylum (Vol 1), INSANITY: The Asylum (Vol 2), Tony One-on-One (vol 1), Tony One-on-One (vol 2), Tony One-on-One (vol 3), Hip Hop Abs, Hip Hop Abs Deluxe, Tai Cheng, Rev Abs, Rockin Body, Shaun T Dance Party, Turbo Jam, Total Body Solution, Yoga Booty Ballet, Ho' Ala ke Kino, Power Half Hour, Great Body Guaranteed, Get on the Ball, Power 90 and Project You, Slim in 6, Slim Series Express, Slim Series, Brazil Butt Lift Master Series and ChaLEAN Extreme Deluxe. Also included are Niche Workouts by Sagi Kalev, Autumn Calabrese, Joel Freeman, Jericho McMatthews and Tony Horton. They are added monthly and only available in the On Demand Member Library. Check out Leandro Carvalho's new exclusive On Demand workouts Carnivale & the 4 Active Maternity workouts for new & expectant mothers (see NICHE WORKOUTS & TRAINER Q&A below for details).
Purchased Programs Allows Premium Club members to stream DVD programs they have purchased from Beachbody, Team Beachbody, or the Beachbody Amazon storefront, if available. Programs available to stream after purchase under Purchased Programs currently include: 21 Day Fix, 21 Day Fix Extreme, Body Beast, Focus T25, Insanity MAX:30, P90, PiYo, The Master's Hammer and Chisel, CIZE, CIZE: The Next Level and 22 Minute Hard Corps. And, for a limited time, buy the Digital Unlock for Body Beast, Cize, or Focus T25 to gain On Demand streaming access without DVD purchase (for details, view FAQ 1282).
Premium Content
& Sample Workouts Premium Content programs are Purchase Programs that a Club Member has not yet purchased either as a DVD or a Digital Unlock. Sample workouts (previously "Sneak Peek") are available to stream, and can be found on each Premium Content program page. Sample workouts available to stream currently include: 21 Day Fix: Total Body Cardio, 21 Day Fix Extreme: Plyo, Body Beast: Total Body, PiYo: Sweat, Insanity Max:30: Sweat Int., P90: Sculpt A, Focus T25: Alpha Cardio, CIZE: Work Your Body, Hammer and Chisel: Iso Speed Hammer, and Hammer and Chisel: Total Body Chisel.
Challenge Du Jour A daily rotation of workouts selected from different programs in the Beachbody Catalogue, as well as new monthly workouts performed by Beachbody Live Master Trainers exclusive to Beachbody On Demand. The rotation of workouts is carefully chosen to create an overall balanced fitness regimen. Master Trainer Challenge Du Jour is a special Challenge Du Jour that is always available. Master Trainer CDJ can be accessed through the Challenge Du Jour or Master Trainer pages.
Workout Anytime Anywhere:
One of the greatest perks of Beachbody on Demand is the fact that you can stream workouts from virtually any device such as web-enabled laptops, tablets, and even mobile devices. This adds so much opportunity in terms of where you get your workout on! And yes, it even works internationally! 
Ready to sign up for the Beachbody On Demand membership? CLICK HERE to get started!