FabFitFun Spring 2019 Full Review | Is It Worth It?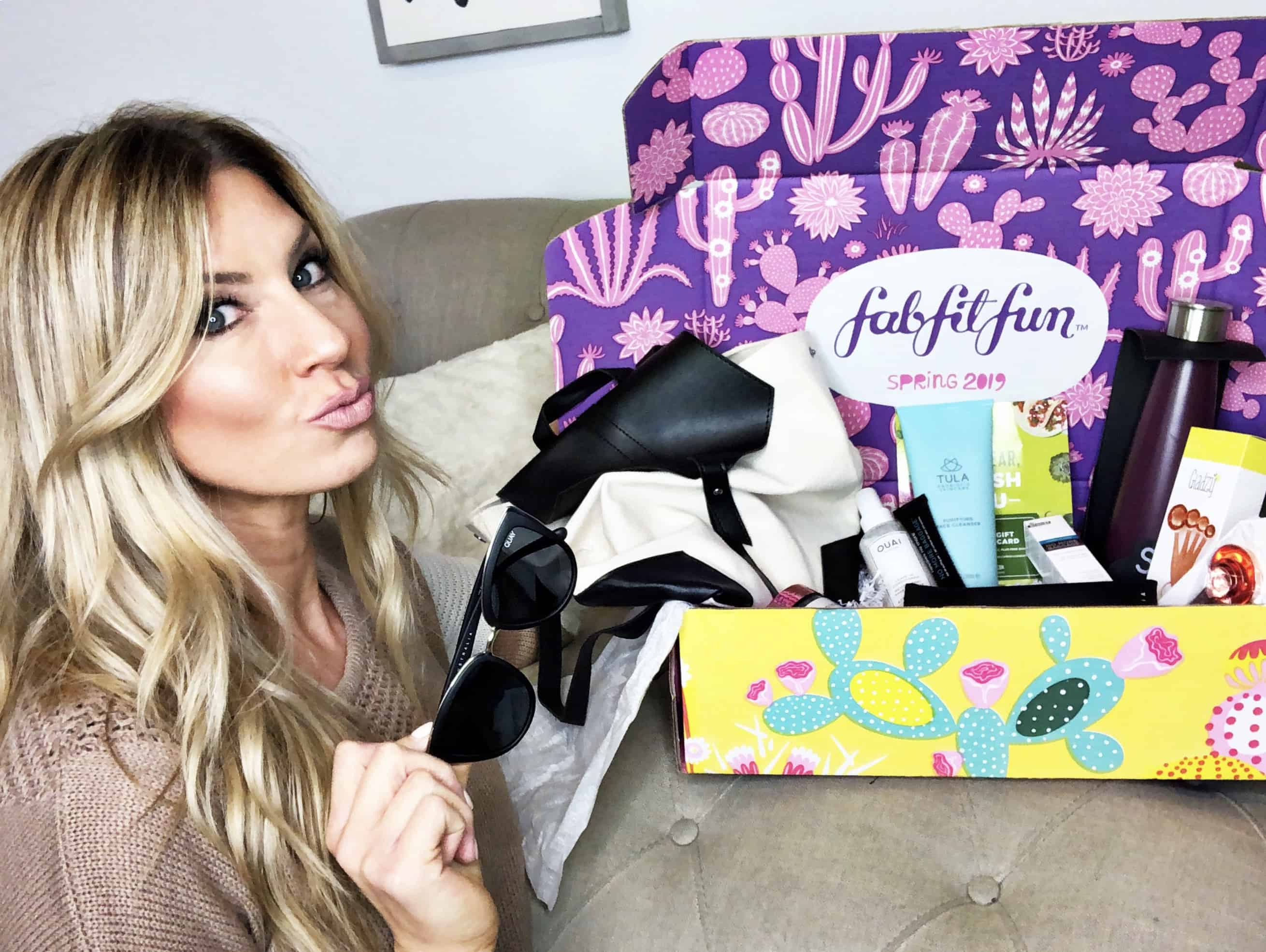 FabFitFun Spring 2019 Full Review | Is It Worth It?
My Spring Box is here and I'm excited to share!  Subscription boxes are all the rage lately. Everywhere I turn, a new company is going up and us moms are talking about it!  I especially love this box because it has the perfect mix for what my lifestyle needs are. Fab, fun and fit..get it! I think I'm funny.
Just when I think it can't get any better, they go and put Quay sunniest as a custom option so you know I snagged those up!  Great quality, trendy styles to choose from and with a case. I always need a sunglass case handy so I don't ruin my good glasses.
My second favorite additions to this box are the hair and skin products!  Ouai products are new to me but I'll tell you after the first use in my daughters long blonde hair, I was sold.  We always need leave-in conditioners at our house so it will be well loved. I really like the scent (it's kind of like hair perfume), and the formula itself is lovely, too. It's a great detangler, and it doesn't weigh down my hair.
I try SO many de-puffing, under-eye eye treatments, and this is one of the few that I could actually feel and see working! After I applied the gel, it immediately gave my skin a cooling feeling. Then, over the next few minutes, I could actually feel a subtle tightening of my skin. (The tightening goes away when you wash this off.)
It has an orange tint, which helps conceal the blue tones of undereye circles, but it didn't make enough of a difference there for me to go without undereye concealer. And it gives your skin a smooth, powdery finish. (And just FYI, this isn't an aloe-vera-type gel, it takes some effort to squeeze it out of the tube!)
Looking at the reviews on Sephora, it seems like people either love or hate this. I'm a fan, but I'm guessing it doesn't work as well for all skin types.
Then I got the cute Swell water bottle, charcoal body scrub I can't wait to use to prep my body for a spray tan.  Did I mention I'm completely obsessed with spray tans?
The shiny new set of measuring spoons if fab, too!  I'm about to start baking more healthy treats with my kiddos so these will get lots of use in our kitchen!
Here is the link to use to customize your own box!  Hurry, run! The doors are almost closed on this and I'd hate for you to miss out.  I just received an email that a few items have recently been restocked so don't wait! XO, Stace
https://t.fabfitfun.com/SH3Hi $10 off CODE : SPRINGLOVE
Connect with me:
INSTAGRAM   @stacyrody
Email: [email protected]