Pumpkin Muffins The Whole Family Will Love!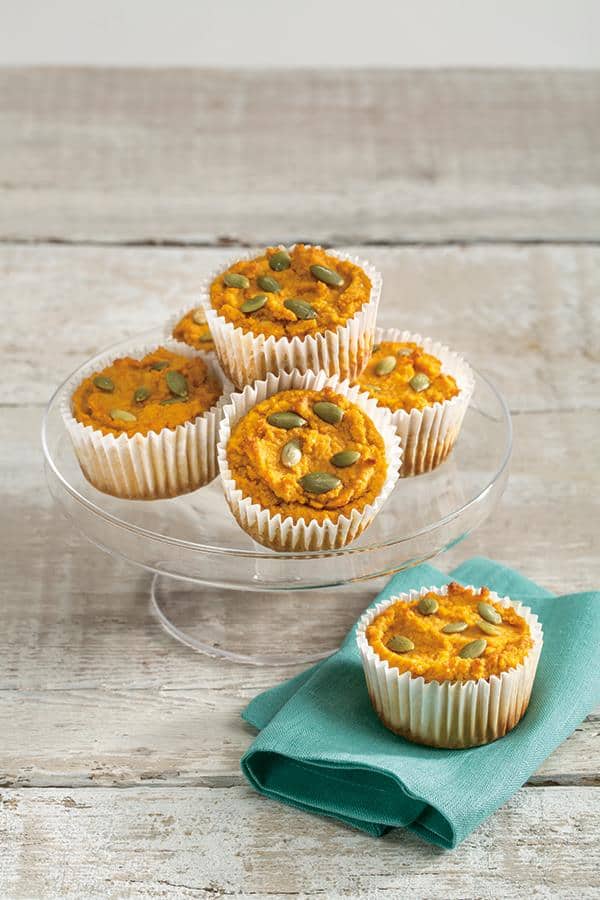 My Favorite Pumpkin Muffins
Let's talk about all the reasons we love pumpkin. It's a clean, natural, low-calorie ingredient that can be used in both savory and sweet dishes. These pumpkin muffins are surprisingly a healthy treat!!!
Pumpkin Muffins Recipe
Ingredients:
2 oz. cream cheese
1 Tbsp. pure maple syrup
1 large egg, lightly beaten
1 cup canned pumpkin puree
1½ cups almond flour
¾ tsp. baking soda, gluten-free
1 dash sea salt (or Himalayan salt)
2 Tbsp. raw pumpkin seeds
Preparation:
1. Preheat oven to 350° F.
2. Prepare nine muffin cups by lining with muffin tin liners or coating with spray. Set aside.
3. Combine cream cheese and maple syrup in a small bowl; mix well. Set aside.
4. Combine egg and pumpkin in a medium bowl; mix well. Set aside.
5. Combine almond flour, baking soda, and salt in a medium bowl; mix well.
6. Add almond meal mixture to egg mixture; mix until just blended.
7. Spoon batter into each prepared muffin cup, filling a little less than ½ full.
8. Spoon about 1 heaping tsp. cream cheese mixture into the center of each muffin. Evenly fill muffin cups ¾ full with remaining batter.
9. Sprinkle muffins evenly with pumpkin seeds.
10. Bake 18 to 22 minutes, or until golden brown and toothpick inserted into the center comes out clean.
11. Transfer pumpkin muffins to rack; cool.
Tips:
You can make your own almond flour by processing 1 cup slivered almonds in food processor (or blender with a strong motor). Make sure that you pulse in 20-second intervals to prevent the almonds from turning into almond butter. 1 cup of slivered almonds yields approximately 1 cup of almond flour.
If you can't find almond flour in your store, you can look at club stores or online.
Let me know when you try these delicious pumpkin muffins.  They are a family favorite!  They will fill you up, so are perfect for breakfast or a quick healthy snack!
(Courtesy of Beachbody Blog)