Zucchini Noodles and Meatballs – Gluten-Free Dinner!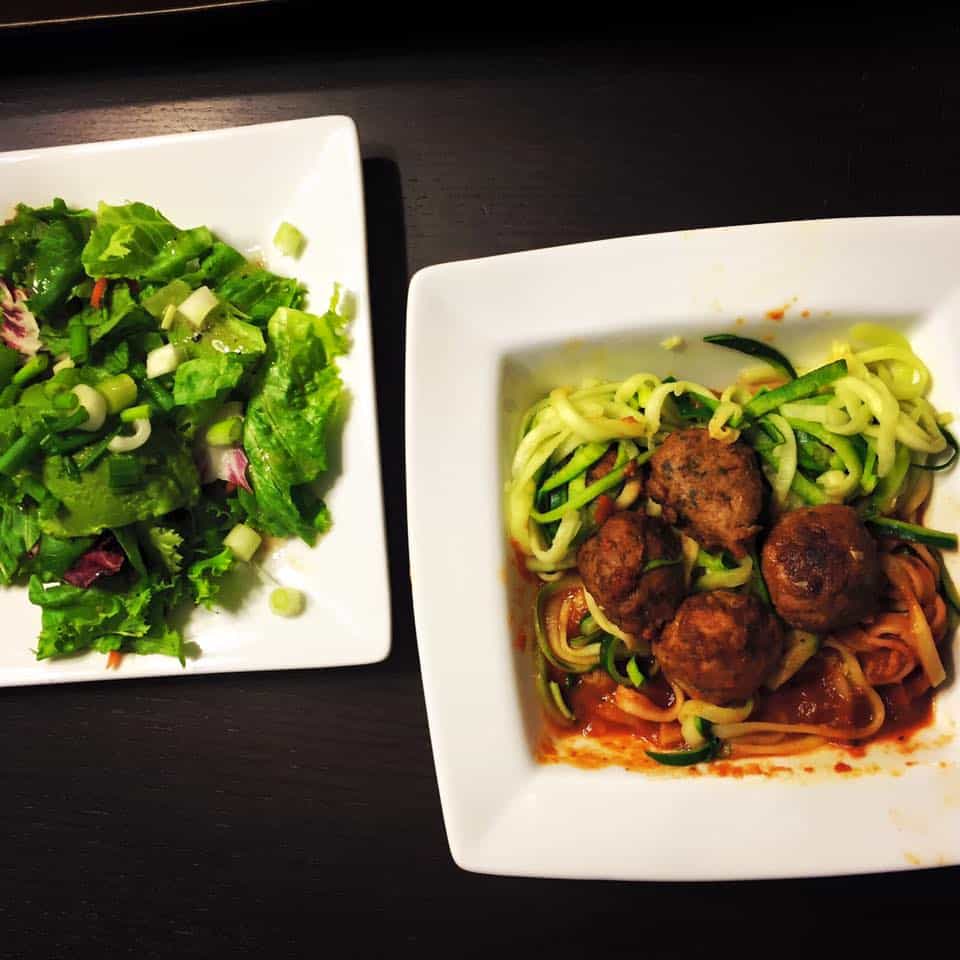 Zucchini Noodles
Zucchini Noodles make an amazing gluten-free dinner!! My bestie made it for me and I not only want her cute white dishes, I could have this meal weekly. Trying new dishes with friends is amazing.  My cousin, who was my maid of honor in my wedding and my best friend has lost a bunch of weight in the last few months.  This is one of the main reasons why.  Having things like zucchini noodles is a huge part of the process in getting healthy.  Not that she can't have normal noodles, but keeping away from carbs, that are very starchy and dense, has been key in her transformation.
Gluten-free Dinner
You do need a spiral veggie cutter. Veggetti was what we used. $12 bucks and it's small and easy to store.  Zucchini Noodles are easy to make and can be used in tons of different dishes.  My kids will eat them…which is huge!  Here's a little excerpt from Organic Facts about zucchini,
"Zucchini is well known to reduce weight, yet still boosting the nutrient value of your diet. Moreover, it helps to promote eye health, and prevents all the diseases that occur from vitamin C deficiency like scurvy, sclerosis, and easy bruising. It helps to cure asthma and has a high content of vitamin C, carbohydrates, protein and fiber. Zucchini contains significant quantities of potassium, folate, and vitamin A, all of which are important for general good health. Zucchini, when eaten regularly, can effectively lower your homocysteine levels."
So as you can see…..add zucchini into your diet as much as possible!  You can't go wrong….now onto what we had for dinner.
What she threw in:
Organic marinara sauce from Trader Joe's, heated
Aidell's Italian meatballs, browned
Zucchini noodles, boiled for 2-3 min.
Salt & Pepper
We did mix some gluten-free noodles we had made for the kids in with our zucchini noodles.  It is amazing how good something can taste, even when it is not what you think it should be.  Never, once when I was growing up, do I remember having zucchini noodles!
The salad is:
Green onions
Mixed greens
Avocado
Feel free to use this for a 21 Day Fix Meal!  And remember, add zucchini noodles into your meal plan as much as possible!
??????