A Mom's High Ponytail Tutorial 2019! Dress Up That Casual Look!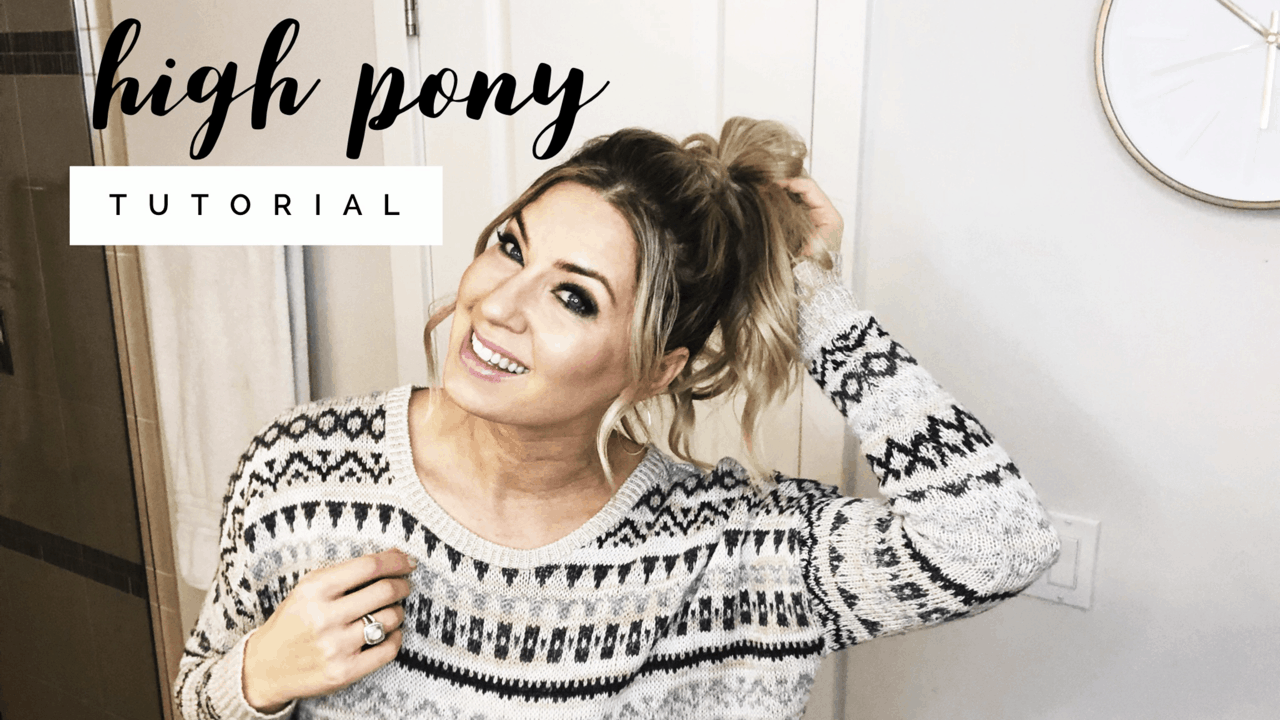 A Mom's High Ponytail Tutorial 2019! Dress Up That Casual Look!
This style is so so cute!!! It dresses up any outfit or style. I often forget how changing my hair can change the entire vibe of my look and it doesn't cost extra! That's a win in my book. This high ponytail would also work if you don't have time to wash your hair but want to look put together and feel cute!
The #1 one trick I'm freaking out about in the video, is to combine the two ponytails! Especially if you have thicker hair and ponytails give you a headache. The two rubber bands give your hairstyle much more support and will help prevent the headaches a lot. I always start and end my styles with this product: Living Proof Full Dry Volume Blast
It adds volume, texture and a little grit for styling plus it smells amazing!!!
The first thing you start with is a half-up, half-down small ponytail making sure you've lined up the part to the edge of your eye line as you can see me do in the video. Make sure you take small sections out in the front you can curl because this adds to the glam. You could always do a sleek high pony with no hair down in the front if that compliments your face shape and style, (I'm thinking of J Lo's sleek ponytails and buns)
Then bring the rest of your hair up and add the second elastic (preferably one that matches your hair color.). Remember, it's not about perfect structure, it's about "a little messy and little fancy" when it comes to hair. As I watch this video, I'm thinking I need more blonde put in my hair.
The next step is to take a small section from the back, wrap a half-inch section of hair around the elastic to hide it and then wrap little hair around the end of the bobby pin before you secure it under the ponytail.
Then take a brush like the one I use in the video. You can find one here: Cricket Amped Up Teasing Brush and gently sweep the under part of the ponytail to have more volume and lift. Here's my favorite curling iron: BaBylissPRO Nano Titanium Spring Curling Iron
Finishing up with a little more Living Proof Volume Blast to add the final touches and maybe a little hairspray. Be sure to pull out and finger through the front curls so they don't look like 90's ringlets! Here's my favorite hairspray that comes in medium or firm hold (I always get the Medium). The reason I keep buying this hairspray is because it doesn't EVER make my hair sticky, but leaves a perfect shine and finishes my look so that I don't look like I have helmet hair!  Moroccanoil Luminous Hairspray Medium
I hope you've enjoyed this and I'd love you to tag me in Instagram or in your Instagram stories so I can see your finished look!
Connect with me:
INSTAGRAM   @stacyrody
Email: [email protected]